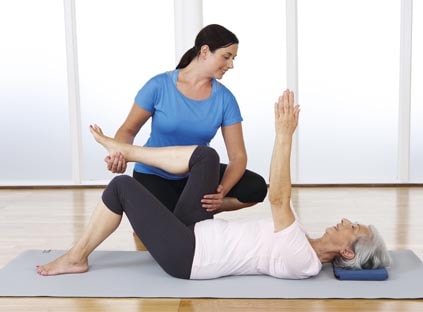 Private Sessions and Semi-private Sessions
I offer hour long private matwork sessions either in the comfort of your own home, or at one of my existing venues, where tuition is given in a more personal environment. This allows you to work on an individual programme in more detail.
In private sessions I assess your posture and movement patterns and then create a programme of Pilates that will help to rebalance and restore your body, strengthening where you are weak, lengthening muscles that are overworked, with a strong focus on learning how to release tension to create a better balance for your body. The benefits of learning Pilates through private sessions is that you develop a greater awareness of your own body and a better understanding of the exercises and how to adapt them for maximum benefit…something you can really feel!
If you are new to Pilates, I can take you through an Introductory Session to go through the basics and give you a postural assessment.
If you would like to get a private or corporate group together then I can potentially travel to you. Please contact me for prices.
---
Private & Semi-Private Fees & Cancellations
Private lessons are £45 for a 1:1 per hour and £55 for 2 people sharing a lesson.
At least 24 hours notice is required for a cancellation, otherwise a £20 fee will be charged.